How to Change the Author URL Slug in WordPress
Ever wonder how to change the author slug from username to nickname in WordPress?
Out of the box WordPress allows you change a lot of the URL slugs. You can change them for posts, pages, categories and tags.
However, it is currently not possible to change the WordPress author URL with "out of the box" functionality. But there is an easy way to do it.
This article will show you how to change the author link in WordPress in a few easy steps using the Edit Author Slug plugin.
Wait, What Is a WordPress Slug?
You may have heard the term "slug" thrown around quite a bit in WordPress, but haven't quite known what it is.
A WordPress slug is essentially part of a URL. It is a portion of what makes up a "permalink" (the permanent URLs to your blog posts). The "slug" part of the permalink is often the blog post title.
Here's an example:
https://blogsmithing.com/whats-new-in-wordpress-5-5/
See the part of the URL that is in bold (whats-new-in-wordpress-5-5)? That's the blog post "slug".
Author pages can have slugs too. "Out of the box" WordPress uses your username as the slug, and may look something like this:
http://yoursite/author/mtomasX78_44cy
That part in bold would be where your username would be. If a user clicked on that hypothetical link they would be directed to a list of posts authored by you.
That slug looks a little messy, and might actually present a security concern as it could reveal your username, which is one half of the username/password combination a hacker needs to hack into your site.
There's one more piece of information in the URL that is of interest. That is the permalink "author base".
The base is the part of the permalink that comes before the username. In the example above it is the word "author":
http://yoursite/author/ mtomasX78_44cy
We'll show you how to change that too.
Change the Author Slug in WordPress
Now that we know what a slug is, and what it's used for, here's how you can update it.
The first thing you're going to need to do is to install and activate the Edit Author Slug plugin.
Once installed and activated you can navigate to that plugin's settings.
In the settings you have a variety of things you can update. We will focus on the author base and author slug.
To change the author base, you'll be able to do that from the options at the top of the setting screen. By default the base says "author":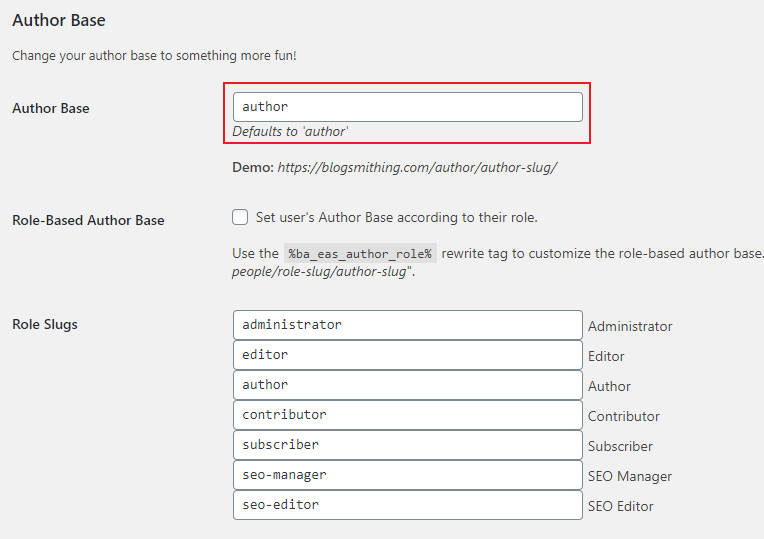 Maybe you don't want the base to say "author". Maybe you'd like it to say "staff". In that case, change "author" to "staff", click "save changes" and now your author permalink will look like this:
http://yoursite/staff/ mtomasX78_44cy
Changing the actual author slug at the end of the permalink is easy to do too.
At the bottom of the settings page you'll be able to select how you want the author slug to look. You'll also be able to apply a bulk update to all authors at once with these settings.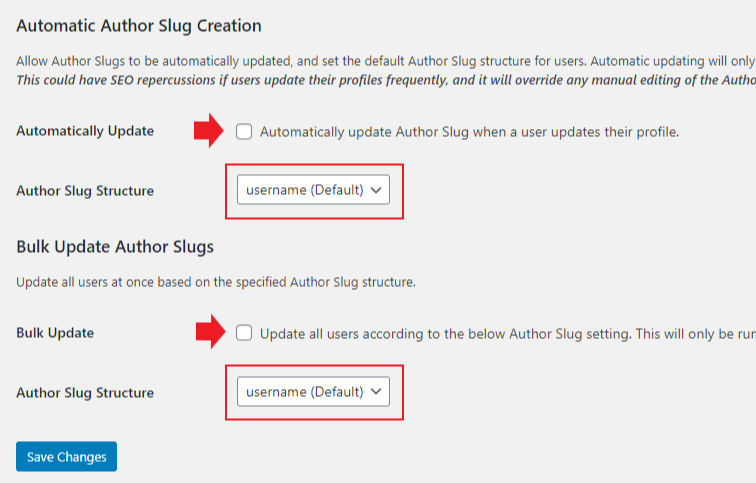 You can choose from the following slug structures: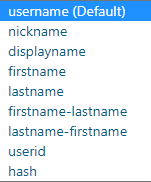 For our example we'll choose to display the "nickname".
If your nickname is "SueTheWriter" then your author permalink will now look like:
http://yoursite/author/suethewriter
or if you changed the author base to "staff" then it would look like this:
http://yoursite/staff/suethewriter
URL Redirection
Ok, now that you've changed your author slug, what can you do about any references online that point to your old author slugs?
You'll need to setup a redirect for those links.
Setting up redirects is easy with a plugin. Just install and active the Redirection plugin and you'll be able to easily set up a redirect for your old author slugs.
Final Thoughts
As with most stuff in WordPress, changing the Author Slug is easy if you use a good plugin. Follow the steps above and you can change your author slug in a matter of minutes to increase URL readability and site security.