SEO Beginner Tips from Brian Dean
If you're doing any online content creation chances are you want to know how to do SEO. If you're brand new to the online world you may even be wondering what the definition of SEO is.
SEO Definition
SEO is short for "Search Engine Optimization". Have you ever wondered why some websites show up on the first page of Google and others don't? This is due largely in part to that site's SEO marketing strategy.
How you craft your SEO strategy will be the key to giving all the great content you've been writing the visibility it deserves.
What Is SEO and How It Works
Search Engine Optimization is the method of finding "keywords" for your topic that people use to search the web to find your content.
For example, let's say you have a fitness blog. Your specialty is "Bodyweight Training". An obvious keyword for your blog would be "Bodyweight Training". But with all the web sites on the internet catering to bodyweight exercises that keyword is pretty saturated.
Using good SEO techniques you'll be able to find more specific keywords to help search engines narrow down their results to your specific content.
For example, you may write a blog post about how to structure your training routine, and how often exercises should be performed. In this case you may want to target long tail keywords such as "how to schedule bodyweight training" and "how to program bodyweight training" or even "how often bodyweight training".
These more specific long tail keywords help search engines know exactly what content you're posting about.
How to Do SEO
So you've picked a niche to blog about, you've chosen a hosting provider, you've set up your site, but how do you do SEO?
This is where Brian Dean comes in.
Brian Dean is the founder of Backlinko.com. Success magazine called him the "world's foremost expert on search-engine optimization".
His company, Backlinko.com, offers training to help you optimize your site, and he has a lot of great free content on his YouTube channel.
He recently released a video called "SEO for Beginners: Rank #1 In Google in 2020". I'll link to the video later in this article, it's really great and worth a watch.
Here's a quick summary of how to rank #1 in Google from Brian's video:
Find 3 Keywords
How do you find 3 keywords for your blog post? You can search the web to see what people are looking for. Sites like answerthepublic.com and explodingtopics.com aggregate search data. You just have to enter your topic and they will spit out information to help you choose keywords for your post.
You can also search social media sites like Reddit, Twitter or Instagram to see what people are talking about in your specific niche. Once you know what people online are asking about, you'll be able to focus your content on their needs.
Create Epic Content
Brian talks about the importance of creating "epic" content in this video. Not good content, not great content, EPIC content.
With so much content being created everyday it's important to get your content to stand out from the crowd. Longer content tends to get shared more often than shorter content, and the more in-depth and authoritative your content is the more likely you are to get backlinks.
Add Hooks to the Content
In order to make your content stand out you'll want to add "hooks". Hooks are things that hook your user into your post, making it more interesting for them to not only read but to want to share your post.
Some examples of good blog post hooks include:
Charts of statistics
Case studies
Tools
Visualizations
Interviews
How to Structure SEO
Once you have your keywords, and great content, how do you format your blog posts so it takes advantage of these SEO tactics?
You're going to want to put your target keywords strategically into your post. Include your target keyword(s) in:
Title tag
First 100 words of your page
Image alt text
H1/H2/H3 tags
Last 100 words of your page
You'll also want to include "LSI keywords" (latent semantic indexing).
Wait… "Latent Semantic Indexing"… what is that?
Latent Semantic Indexing is a fancy way of saying "phrases similar to the keywords you've chosen". For example, going back to the "bodyweight training" keyword example, some similar phrases people may use when talking about that might be "bodyweight training definition", "bodyweight training guide", or "bodyweight training benefits". You get the idea.
This helps Google know that your site has authority and authenticity in your selected niche.
Brian has a great tip for finding LSI keywords. Simply do a Google search for your keyword, scroll to the bottom of the search results, check out the suggestions for related searches, and use those to further mine for long tail keywords.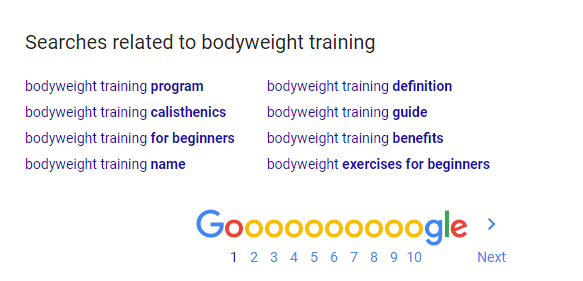 Build Backlinks
The final piece of advice to pull from Brian's video is a good tip on building backlinks.
What is a backlink? A backlink is simply a link from one website to another. If you write a blog post, and another website shares it, then that helps build authority with Google searches.
Brian uses a Chrome extension called "Check My Links" which enables him to see links on pages he visits that are broken. A broken link means that the user can't find the page that the author originally intended to send them to. If you find a broken link on a page that is talking about a topic similar to your you can reach out to the web sites admin and offer a post of your own as a replacement link. Great tip!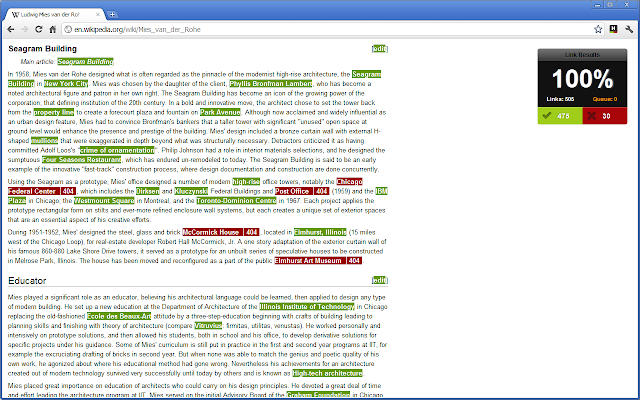 Conclusion
Brian Dean's video on SEO for Beginner's is really great, I've pulled out the major points above, but you're going to want to watch this short video yourself. It's full of great detail that will help you if you're just getting started with search engine optimization.