How to Earn Money Online Without Investment for Students
Are you a student with a busy schedule who needs to make some extra money and need a flexible way to do it? Or maybe you've lost some income due to COVID and need to know how to make money if you can't file for unemployment. There are ways to start to build an online business with no investment, requiring nothing more than access to the internet.
This article will teach you how to set up an online presence so that you can earn money online without investing any money.
How Do Websites Earn Money Without Investment?
Earning dollars online without investment sounds impossible, right? Doesn't it cost money for hosting, website development, creating products, etc?
It's actually easy to get begin your entrepreneurial journey online. If you truly want to get started with no money whatsoever, you can sign up for a free website through WordPress.com.
The free version of WordPress.com gives you a subdomain on the wordpress.com site, hosting for your blog, and a free website builder.
There are limitations on the free version of course. There is a limited amount of data you can upload. WordPress.com displays ads on your site, and the amount of customization you can do with plugins is very limited.
Even with the limitations of a free WordPress blog it may be a good way to get started to see if you like blogging. You can begin to build your content, learn how to use the tools and find your niche.
At some point if your blog starts to grow you'll probably want to snag your own domain name, and get some cheap hosting for your site to take advantage of all the features that WordPress has for content creators.
When to Move to a Premium Hosting Plan
If you start blogging and your site starts to generate interest, then more and more people will want to visit your blog. The more people that are viewing your blog, the more the performance of your hosting provider becomes important.
You want your readers to have a good experience when they visit your blog. You want your blog to run smoothly, and quickly. Your readers shouldn't have to wait long when they click a link on your site for your page to load.
You'll also want to be able to customize your website, spruce up the design, and take advantage of plugins like Yoast (to help with SEO), and Google Web Stories (to add modern graphics to your posts). If you're technically savvy you'll even be able to create your own WordPress plugins to deeply customize your blog.
If you get to that point don't worry. Getting a domain name is cheap, the prices fluctuate from year to year, but currently we're paying around 10 dollars a year for domain names.
WordPress hosting is also relatively cheap. You can get shared hosting for less than 10 dollars a month, and some hosting providers are even offering COVID related "stay at home" specials for as cheap as 1 dollar a month right now.
So you can in fact get started with making money online with blogging for free. But at some point you'll want to move to a hosted plan, so keep that in mind. You may want to make the small investment of getting your own domain name and shared hosting from the beginning to save yourself the headache of having to move your blog content later when you readership picks up.
If you want to learn more about how to start a blog, click on this link to read our free guide.
Wait, But How Do Websites Make Money Online?
Ok, I hear you. We started this article by talking about the technical aspects of setting up a blog, how to buy a domain, and how to find hosting. But what you really want to know is, how I can I actually make money if I do all this?
Let's start with some good news. There are plenty of examples online of bloggers who are making some serious, life-changing money from their blogs. They graciously share their income reports so we can all see what's possible in this field. Here are some examples:
So what are some ways that these blogs make money? There are actually quite a few ways that they earn income:
Affiliate programs (like Amazon's affiliate program)
Ads
Creating and selling courses
Dropshipping
Sponsored posts
Selling products
YouTube monetization (more on this later)
Let's talk about affiliate programs.
What Is an Affiliate Program?
Affiliate programs are a very simple and easy way to make money online. As an affiliate partner of a online store, you can earn a commission if you can help your readers purchase a product from that vendor. The most popular affiliate marketing program on the web is Amazon's affiliate program. It's easy to sign up for, and they have such a large amount of products that it's usually easy to find good stuff to promote in your given niche.
But it goes beyond just earning a commission on a product you promote. Most affiliate programs will also give you a commission on any other product on their store that your reader buys in a given time frame. For example, if you have a blog about dogs, and you write a blog post on the best dog collars to train dogs, and your user clicks the link (like this one, if you click that link or the one before it and buy something, we'll get a commission of that sale), and they navigate to another product on your vendor site you might earn a commission on that other product as well. Additionally, some vendors will keep a "cookie" on your reader's machine. This means that anytime they go back to that vendor's website within a certain period of time you may continue to earn commissions on purchases for that period of time (for example, for a 24 hour period). This is a very exciting way to generate income.
Where to Find Affiliate Programs?
So where do you find these affiliate programs? It's actually pretty easy. What you'll want to do is find online businesses for the niche that you're writing about. If you find some quality stores and products that you think would fit your niche, then simply do a Google search for their site and the word "affiliate" and often these sites will have an affiliate program you can sign up for.
Let's take our earlier example of blogging about dogs. Since you have a pet blog, maybe we can see if PetSmart has an affiliate program. A quick Google search for "PetSmart affiliate" displays the following: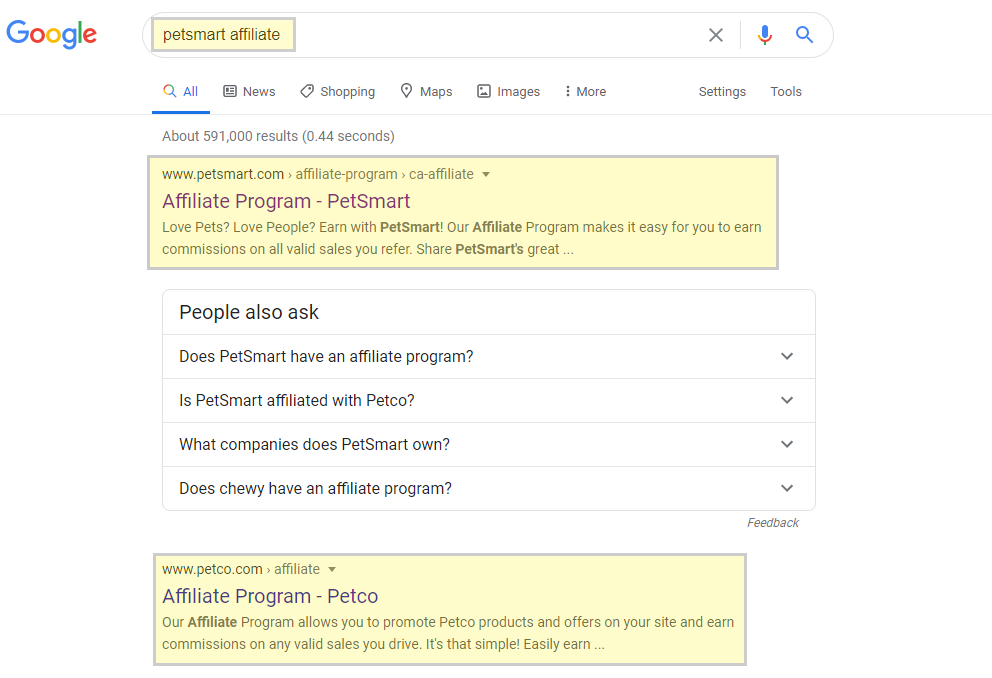 As you can see, PetSmart has an affiliate program you can sign up for, and below that you can see Petco also has an affiliate program. So there are plenty of affiliate programs online that you can take advantage of. Be aware though that many of these programs won't accept your application until you have a website that has a certain amount of content that shows that you are blogging in an appropriate niche. With that in mind you'll want to start writing your blog right away. This will ensure that you have a good presence online when applying for affiliate programs.
Here's a quick list of some popular affiliate programs worth exploring:
How to Pick Your Niche for Affiliate Blogging
Now that you know how websites can make money online, how do you know what to write about?
This is where narrowing down your interests to a specific niche becomes important.
It used too be the case that you could throw up a website, load it up with affiliate links and make money with little effort.
These days things are a bit different. It takes time to start to make money on line, and Google has some pretty stringent standards as to who shows up on the coveted first page of search results.
What all this means is that you will want to pick a niche that you care about. You will be spending a lot of time writing about this niche, so you really need to enjoy it. You'll also need to have authoritativeness in the subject that you write about. Do you need to be an expert to start blogging in a specific niche? No. But you do need to be willing to put in the time to develop expertise so that your content is of epic quality.
The best piece of advice I ever got about blogging was to write about something you're already into. If you write about something that you're already learning about then blogging will be a very fun activity.
Making Money With YouTube
In addition to blogging, you can start a YouTube channel in your niche. Lots of bloggers do this. It is a great way to grow your traffic.
YouTube has it's own monetization policies. If you meet their requirements your videos can earn ad revenue. As of 2020 you will need to meet the following requirements to be eligible for their partner program so you can earn money from your videos:
1000 subscribers
4000 watch time hours over the past 12 months
Comply with YouTube's policies and guidelines
Have an AdSense account setup.
But prior to being eligible for their partner program you can create video content that supports your blog, and even put affiliate links in the description of your videos.
YouTube also helps you build your community. You can interact with users who comment on your videos which build your reputation online in your niche.
Your YouTube channel description will contain a link back to your site, and your videos can link back to specific blog posts. You can even embed your YouTube videos directly in your blog posts. This builds a nice symbiotic relationship between your blog and your Video Log (vlog).
Putting It All Together
Ok, let's put a business portfolio together using "dogs" as your niche and making use of everything we've talked about so far.
Let's say you are a college student, or out of work (maybe due to COVID), and you love dogs. You get along well with them, and all your friends jokingly call you "the dog whisperer".
You think you'd like to earn some extra money doing dog-sitting and dog walking, but how do you get clients?
That's when you decide to start a blog about dogs. On your blog you talk about all the tricks you've learned about training dogs. You talk about your experience with your own pets. You write stories about pet-sitting adventures you've had in the past.
You add affiliate links in your blog as you recommend dog food, pet supplies and services to generate extra income.
You film videos with your smart phone and post them on YouTube showing how to train a dog to walk obediently by your side, among other training tips.
When you talk to people about walking their dogs for money, or pet-sitting for your professor while his family goes on vacation you can point to your blog and YouTube channel to show you are trustworthy authority when it comes to taking care of dogs.
The more clients you get, the more content you'll be able to put on your blogs and YouTube channel, which will lead to more visitors coming to your site.
All this works together in a beautiful way to build your business as a pet-sitter and dog expert.
In Conclusion
Getting your blog or business online can seem daunting, but it's really not that hard when you're first starting out. If you just know a few things, like where to get WordPress hosting and how to get started then you can be up and running on the web in a day.
Will you make the kind of money that websites like "Making Sense of Cents" or "Smart Passive Income"makes? Probably not. But if you work hard you can bring in some nice passive income.
It takes time to start seeing profits online. Average time to make money from affiliate posts are 8-12 months, so it's best to get started right away. Even then a lot of people fail to make money, but you can be smart and follow what's outlined in this article and you will have a good chance of making the right moves to carve out an income source for yourself in due time.